Presser Bullets: Ryan Day Talks Confrontation With Greg Schiano, Rutgers Win, Health Status of TreVeyon Henderson And Tanner McCalister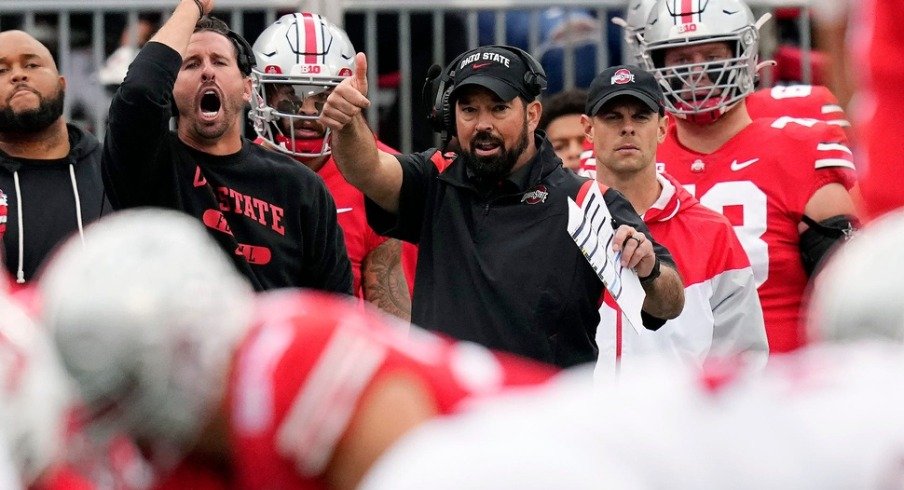 Kyle Robertson, Columbus Dispatch
Things went according to plan for the Buckeyes in Saturday's blowout win over Rutgers.
Well, not exactly, as high-profile Ohio State starters like TreVeyon Henderson and Tanner McCalister experienced health issues during (or immediately before) the game. But the Buckeyes' 49-10 victory gave Ryan Day and company plenty to be pleased about nonetheless.
Day addressed several injuries, Miyan Williams' record-tying performance and C.J. Stroud's relatively subpar effort – among other things – in his postgame press conference appearance. Here are notes on everything the Buckeye head coach said after the game. 
Following Day, Stroud and Williams spoke at the podium in the Buckeyes' postgame interview room, and we have notes on everything they said as well.
Ryan Day

Day says "we feel" the crowd at games like this one, and thanks the people that put everything together, from maintenance staff and the athletics department and everything in between.
On the dust-up with Greg Schiano: "(Jesse Mirco) just saw it and took it. … No hard feelings at all. Told him that after the game. Have an unbelievable amount of respect for him."
On C.J. Stroud's struggles: "Overall I thought it was a job well done."
Day says the Buckeyes expected Henderson to play on Saturday, and were surprised to see his injury linger from last week.
On Miyan Williams: "He was tough down there in the end zone. Miyan had a really good day for us."
On the success of Tommy Eichenberg and Steele Chambers: "You can flash when you're athletic, but it's the diagnosing plays and figuring out how teams are coming after you."
On McCalister's health: "I don't really have much of an update right now on Tanner." Day says the Buckeyes are trying to get Cam Brown back as soon as possible. "At the end of the day, I'm kind of out of it. I trust the guys and they do a great job."
Day says he talked to Mirco about running the ball afterward and that he said "no one was on me" when he rolled out to the right to punt the ball. Day says he told him "we'll talk about that tomorrow."
Day says "I'm not gonna bite on that" when asked again about the Schiano confrontation, and says he and Schiano were just defending their respective players.
QB C.J. Stroud

Stroud says Miyan Williams is "one of my best friends on the entire team" and that he was happy to see the breakout success he had on Saturday.
"We are pretty dynamic on the outside and I think we do a great job on the inside protecting." Stroud says "if we can run the ball like that," it will be a "recipe for success."
Stroud says "I gotta be smarter" on the interception, and says he was trying to "do too much" when he threw the ball into triple coverage. "I'm never gonna put the team at risk. … I know for a fact I can fit that ball in there." Stroud says it's a "learning point" and that the Buckeyes are going to "continue to be great."
"I've built a good chemistry with everybody," and Stroud says the Buckeye pass offense is usually so good that people think something's wrong when it doesn't put up massive numbers. "We only didn't score on one drive. That's a very efficient day."
Stroud says "I'm not playing for personal stats" and that "it's not about me." Stroud says "just being smart" and trying to win are his main goals. He says "I could really care less" if he throws for a lot of yards or not.
The breeze outside was "nothing," Stroud says.
RB Miyan Williams

Williams says he didn't know he was approaching a record until afterward.
He shouts out the Buckeye offensive line, receivers and tight ends and says "it was a blessing" to have such a performance.
Williams says after the first touchdown he realized he might be able to have a good game, and told the offensive line to keep it rolling.
Williams found out Henderson wasn't going to play right before the game.
On tying Pete Johnson and Keith Byars' single-game touchdown records: "It's a blessing to be up with those names. Those are legends."
Williams says he told himself "don't get caught" on his 70-yard TD. "It's a blessing to break one."
Williams says the most TDs he scored in high school was six. "I never would've thought I would've had a game like this" in college.